Hello there, I'm Rui Xin.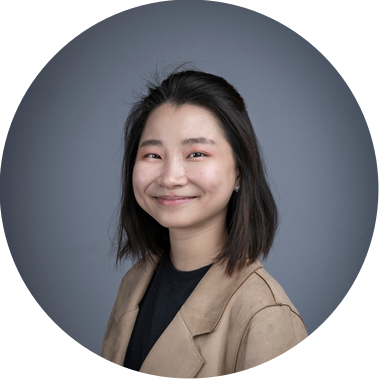 I hail from a small mighty island known as Singapore.

Graduate of a B. Sc. degree in Media Industries and Technology + Media Arts and Game Design module from Northwestern University, I have experience in
project management,
designing briefs, timelines, and low-fidelity wireframes for user flow,
external communication writing,
liaising across multiple stakeholders (designers, 3D artists, developers, etc.),
and a personal interest in photography and interactive tech.
Apart from being a native English and Chinese speaker, I'm proficient in Adobe Creative Suite, Miro, MS Suite, and HTML/CSS. I also understand end-to-end Unity AR product development & app publishing process, and interactive web development.
Creative Project Manager
Hiverlab (2021-Present)
Manage AR / interactive projects, deployed on web or through application to end client (B2B - logistics & supply chain, biotech, university, telecomm, NGO)
Coordinate with project team and 3rd parties to prepare design briefs, user flow, timeline, process control, QC, delivery management, PNL, etc.
Liaise with internal (senior management / UIUX designers / 3D artists / developers) and external stakeholders (client / main contractors) to ensure quality project delivery
Handle external comm copy for social media, website, and company's Digital Transformation eBook
Project Manager
History Adventures (2019-20)
Developed asset and budget trackers
Stewarded creative deliverables and managed social asset pipeline
Supported creative review meetings and operations on Zoom and Discord, ensuring materials are prepared
Provided time management via sprint plans with Asana
Proofread and edited all text documents to ensure font, content and style consistency
"History Adventures" was awarded a Silver Medal for Education, Art, and Culture at the first annual Anthem Awards in 2022.
"History Adventures, Revolutions & Industrializations" was awarded a gold award (Mobile Apps - Education) for Horizon Interactive Awards 2020 in April 2020.
"History Adventures, Empires and Interconnections" was shortlisted for Best Educational App for the Wharton-QS Reimagine Education Awards 2020 in October 2020.
Global Marketing Esports Intern
Razer Inc. (2020)
Coordinated monthly esports marketing campaigns across multiple departments (product, design, marketing, production, localization)
E.g. proposed and led video campaign with Razer Esports Gamer, Xian
Researched esports market and areas for development
Derived data and analysis from Google Analytics, and other sites for tracking and seeding purposes
Assisted with creative, administrative and logistical tasks such as gift guides and stock transfer
B. Sc. Comm., Media Industries and Technology
Summa Cum Laude, Media Arts and Game Design Module
Northwestern University, Qatar (2017-2021)
Northwestern University, U.S. (2020)
A Levels
SAP Scholar
Hwa Chong Institution, Singapore (2015-6)
Greg Bergida
Strategy and Planning Executive
greg.bergida@northwestern.edu
Spencer Striker
Associate Professor of Digital Media Design
spencerstriker@gmail.com